Driving Digital Healthcare
More than ever, healthcare ecosystems have the chance to redefine themselves through innovation in technology and new digital service models that combine all service providers into an ecosystem. iParamed develops solutions that drive the digitalization of healthcare services. We want to simplify the connectivity between patients and different healthcare service providers, centralizing patient's health record, as well as bridging geographic distances. Our solutions will also help doctors to learn from many patients in more details, then apply that learning to create personalized treatment for each patient individually.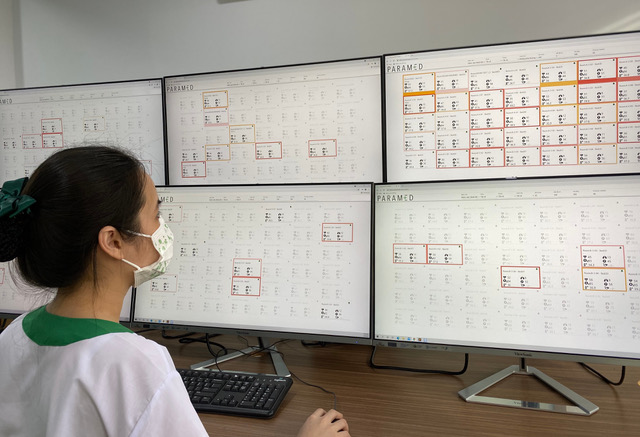 iParamed's tele monitoring solutions are based on FDA approved medical devices and are run on our proprietary software, ensuring high flexibility in application.
iParamed provides our clients with secure access to cloud-based healthcare solutions delivered as a SaaS.
This model reduces the budget and time required to build and setup a server and data center. Solutions can be integrated immediately for monitoring patients, creating flexible monitoring capabilities at low investment requirement.

Tele monitoring Covid-19 patients
Our solution for 24 hours continuous real-time monitoring of Covid-19 patients – detecting deterioration of health conditions immediately

Complete Tele ICU Monitoring
Monitoring all vital signs of ICU patients (including pulse, ECG, SPO2, blood pressure, temperature) complemented with visual monitoring based on high-precision camera

Mobile monitoring kit box for ambulances
Compact kit box for transmitting real-time vital signs of patients to emergency room while still on the way to hospital
Solutions for doctor office facilitated services
iParamed provides to doctors and their patients simple solutions to engage monitoring vital signs at home, allowing for quick reations if a situation turns critical. These solutions can also be used to collect valueable data for more precise diagnostics in case of chronic diseases.

Monitoring for patients with chronic cardiac diseases
Compact monitoring solution to collect comprehensive & precise ECG data at home

Temperature monitoring for children
Simple solution based on a small device for monitoring children's temperature when they get ill

Health monitoring for elderly
Regular monitoring of elderly people for spotting early signs of health deterioration